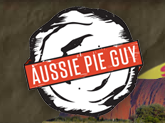 When:
January 13, 2018 @ 1:00 pm – 8:00 pm
2018-01-13T13:00:00-08:00
2018-01-13T20:00:00-08:00
Aussie Pie Guy is Vancouver's one and only Aussie pie food truck. We make authentic Australian meat (and veggie!) pies and deserts that we sell from our food truck in and around Vancouver, BC. Aussie Pie Guy began with a craving – a craving for a delicious Aussie pie. Matt Fitzhardinge, a born and bred Aussie and Linda Lowery and Kayleigh Lum, who had traveled in Australia and fell in love with Aussie pies, searched high and low for authentic Australian pies in Vancouver and to their dismay, their search was unfounded…and then the light bulb turned on. Less than a year later and Aussie Pie Guy was born, hitting the streets of Vancouver for the first time in June 2013.